iTaipei Service Apartment was our home in Taipei for several days. Initially, I was looking at booking a hotel room but got across this place when I was searching for an accommodation near the starting line of the run.
Check-in
iTaipei Service Apartment has a fast and efficient check-in. Even if we arrived past 3am, somebody was there expecting us at their reception area and assisted us to our room after we presented the confirmation booking.
Accommodation
We booked a deluxed room – the American Neoclassicism, room with a cream colored tone that offers an uncrowded, stress-free visual experience. It's a 33 sqm space with a queen sized bed that perfectly fit us. It also has a couch, a mini kitchen for cooking, and a washing machine for laundry and an iron for pressing clothes.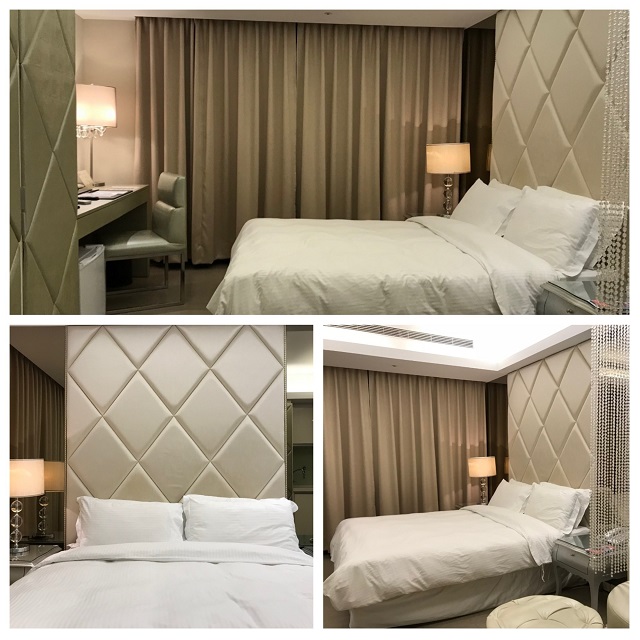 It has it's own bath and tub and they provided robes, towels, and toiletries. They provide daily housekeeping and the room is tidied up every 3 or 5pm daily.
The room has a fast and reliable Wi-Fi. We were able to catch up some online work before heading out to walk around the city. iTaipei Service Apartment doesn't provide breakfast but it's easy to grab a bite from the restaurants or take our bread and pastries from the different bake shops (similar to Bread Talk or Tous Les Jours if you are familiar with them) or convenient stores  Qsquare Mall. The choices include N.Y. Bagels Cafe (one of our favorite), Mos Burger and there's also Starbucks.
Location
iTaipei Service Apartment is connected to the Taipei Main Station. You can just pass thru the mall to get to the train and bus stations.
To and from the Taoyuan Airport,  is just a train away (by the Airport Railway 160 Taiwan Dollars/ person, which operates from 6am-12mn). When taking the taxi, it will cost about 1200 Taiwan dollars for about 28km of travel.
It is near The President's Building and the xxx Park.
They have a space at the ground floor of the building to accept and assist guests. The rooms are located in a different building with another separate lobby reception. At first, it can be confusing because of the transfers between buildings (plus most of the access ways are closed because we arrived about 3am) but you will get used to the way of going to and from the rooms from the stations and connecting malls.
iTaipei Service Apartment Address:   1F., No.209, Sec. 1, Civic Blvd., Taipei City, Taiwan (In front of the Taipei Main Station, Taipei Bus Station, next to the driveway by MRT Y3 exit)