We have booked some flights a few days back and then just now as I was browsing for hotel accommodations, I came across this video by PTV, the government-owned television network.
There's a the newly announced terminal assignments for airlines using Ninoy Aquino International Airport (NAIA). This is Effective August 31, 2018.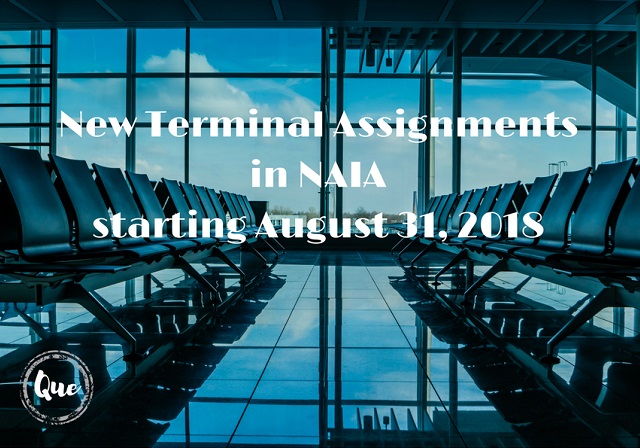 Take note of the Airline's New Terminal Assignments in NAIA when you are travelling on the last quarter of the year. I hope delayed flights will be minimized when they implement the switching of terminal assignments.
NAIA Terminal 1
Philippine Airlines (International Flights)
Etihad Airways
Japan Airlines
Saudia Airlines
Thai Airways
NAIA Terminal 2 (Centennial)
Cebu Pacific Air (Domestic Flights)
Philippine Airlines (Domestic Flights)
NAIA Terminal 3
Cebu Pacific (international flights) and all other international carriers, except for the 5 airlines assigned to Terminal 1 (as per Rappler)
Air Asia
Air China
Air Niugini
Asiana Airlines
Cathay Pacific
China Airlines
China Eastern Airlines
China Southern Airlines
Delta Air Lines
Emirates
EVA Air
Gulf Air
Jeju Air
Jetstar Airways
KLM Royal Dutch Airlines
Korean Air
Kuwait Airways
Oman Air
Qantas Airways
Qatar Airways
Royal Brunei Airlines
Tiger Air
Xiamen Air
* Added Air Asia to the Terminal 3 list by Poor Traveler
NAIA Terminal 4
Other Domestic Flights except for Philippine Airlines and Cebu Pacific
Related Posts:
Taiwan Visa-Free Entry for Filipinos
How To Apply for a Korean Visa
Visa-Free South Korea: How To Get to YangYang Airport