How about learning how to paint while drinking wine? While doing this, you also get the chance to help raise funds for an organization!
Here's the press release of the Pain and Sip charity event: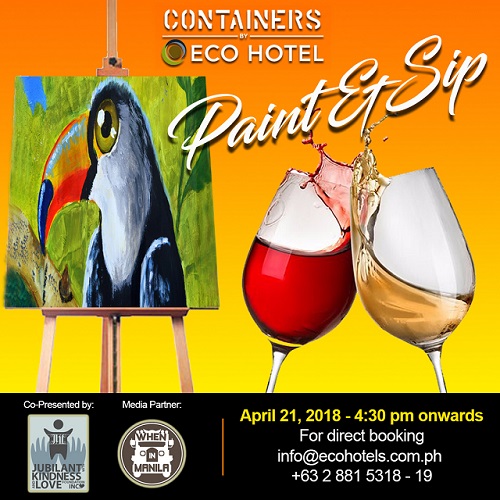 Manila, Philippines: – As we become a web-centric world, more online opportunities arise and the love for arts is becoming one of the most-sought activities for kids and kids-at-heart.

Therefore, Eco Hotel Philippines, together with Iris Alonzo, came up with an art workshop called "Paint and Sip."

Paint and Sip is an instructional painting lesson usually consists of groups and accompanied by wine or other beverages. This event has increased rapidly since 2007. Furthermore, Iris started Paint and Sip in Yangon in July 2017 as a way to raise funds to run a primary school in an isolated village in Mon State. Her event lives on in the Philippines to fund art scholarships and to encourage people to explore their artistic capacities with the help of wine and friends.

We've invited talented and accomplished artists to share their expertise and journey to make it even more effective and incredible event for YOU!

Jessica Herrera

Jessica will be the main artist of the operation. She has worked in he has worked in AIESEC for 6 years as well, then served as a Partnership Manager for Asian Development Bank, and is currently a consultant for NGOs in the Philippines. She is a licensed Zumba instructor and certified Spanish teacher, but her true passion is painting. She started at the tender age of 6 and is happy to finally have found a relevant cause for her talent.

Iris Alonso

Iris is not an artist but an art enthusiast, with 6 years of development work experience in AIESEC, an international NGO. Through that, she became a Country Manager and Global Expansions Coach in Myanmar.

The proceeds from this event will be used to fund an organization to honor Sir Chinggoy Alonso's contribution to Philippine arts and theatre. Chinggoy was a Filipino actor in theatre, movies, and television. He appeared in countless movies during his lifetime. Sadly, last October 2017, he passed away due to cancer.
Paint and Sip Charity Event will be on April 21, 2018 at Containers by Eco Hotel, located along SVD Road, Brgy. San Jose, Tagaytay City, from 4:30 pm.
For more information, you may sign-up here https://goo.gl/forms/FTJDyumsJj7oSK5p2, email info@ecohotel.com.ph  or message them on Facebook (@ecohotelph).