This is another project I have been working on (with the husband). Women's Stride, is the first ever all-women virtual race in the country and this is presented by Takbo.ph and New Balance.
Sign up and run with me and the rest of the ladies as we celebrate International Women's Month. It's open to all women of all fitness levels – newbie or experience runners.  Complete a total running mileage of 21K, 50K, 100K, and 200K by running anytime and anywhere between March 1 and 31, 2018. Once you reach your running goal, you get the entitlements of a limited edition Racerback Tank Top and the Women's Stride Finisher Medal.
Plus, we have great items to raffle off to all the participants from New Balance, Takbo.ph, Triumph and Sock Guy Ph.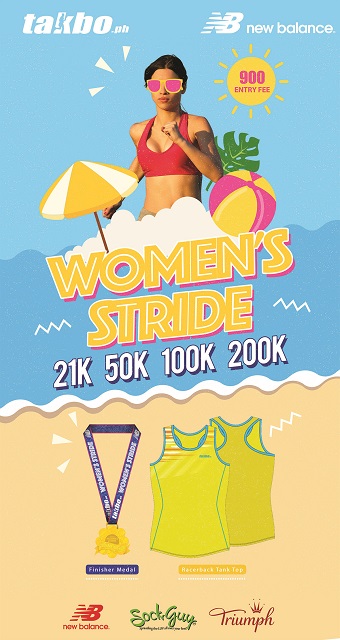 Details on how to register can be found here… http://bit.ly/TakboVR_Registration or http://bit.ly/WomensStride2k18
Join our group for TAKBO.PH VIRTUAL RUNNERS here.