It's not my first time to visit Lakawon but so much has changed! The unexplored island back in my college days is now a developed resort that both locals and tourists flock to.
Lakawon Island Resorts and Spa is now a well-developed resort. Aside from day tour facilities – cottages, canopy tents or umbrella huts you can use, the resort now offers accommodations for guests who wanted to stay for a night or more and enjoy the island.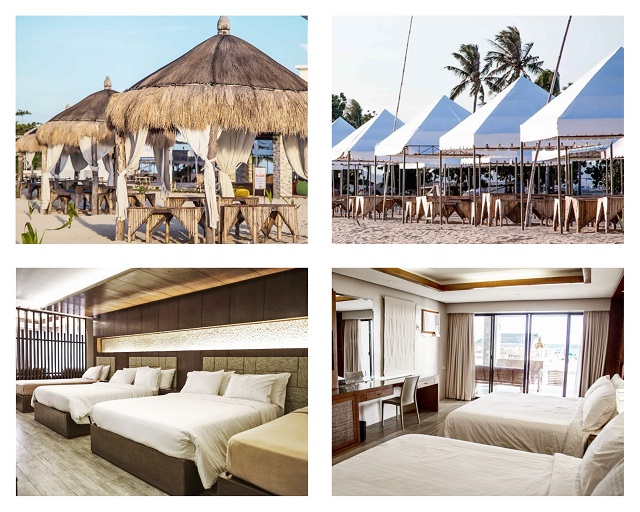 Accommodations rates starts from Php 2500/night. Huts rentals start at Php 600 (Photos from Lakawon Website)
One of the attraction at Lakawon Beach Resort is the TawHai Floating bar, claimed to be the biggest floating bar in Asia. "Tawhai" is a local dialect which means "relaxed".  Tawhai Bar has a fee of Php 200/ person which includes the boat ride from the main island to the bar and a drink. As it is not open and unavailable during our trip, I promised to come visit again for this!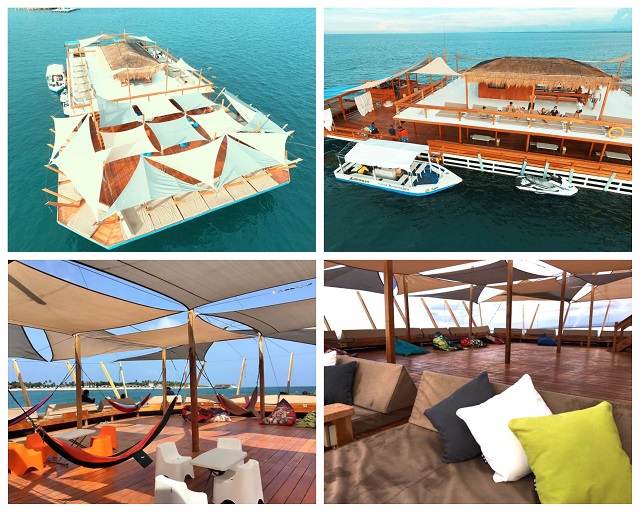 A closer look of Tawhai Bar (Photos from Lakawon Website)
There have been more constructions since the last time we visit so we are expecting more to see. Soon they will have the dock bar at the end of the Lakawon bridge.
Check out our short video of our Day Trip to Lakawon Island Resorts and Spa:
How to get to Lakawon Island?
Lakawon Island Resorts and Spa is located in Cadiz Viejo, Negros Occidental. You can reach the island via car or bus then a 20-minute boat ride. Boat rides are from 6am – 5pm (last trip from the island) at Php 150/ head.
Via Private cars
The resort offers van and coaster rentals from (1) Bacolod to Lakawon (and vice versa) , (2) Bacolod-Silay Airport to Lakawon (and vice versa),  (3) Bradco Port to Lakawon (and vice versa)
Private cars. Just head north of Negros and right after passing by Manapla City you will see an arc as the entrance to Cadiz City. From Martesan bus and tricycle terminal drive heading to the port. There are available parking spaces at the port where you can park your cars, for a fee (about Php 70) before you leave for the island.
Via Bus 
Take the bus heading to Minapasok from Ceres North Terminal in Bata. There are trips every 15-20 minutes. Drop off at  Martesan bus stop after about an hour of travel.
Take a tricycle ride (Php 20/ head) going to the Port at Brgy Cadiz Viejo.
Via Plane
Flights are now available from Mactan Cebu to Lakawon for only Php2500 for a one-way ticket via AirJuan Seaplane. (Details from Lakawon Official website)
Mactan to Lakawon
0630-0700H Check in/Registration at Mactan International Departure Area (beside Air Asia Office)
0715H Shuttle to General Aviation Area
0800H ETD Mactan General Aviation Area
0830H ETA Lakawaon for boat transfer
Lakawon to Mactan
0900H ETD Lakawon
0930H ETA Mactan Generalto Mactan International Airport
Lakawon Island Resorts and Spa Entrance: Php 100/ head. This is to be paid together with the pumpboat fee before heading to the resort.
There is a corkage fee of Php 50 for the food and drinks taken into the island to address the waste disposals.
Lakawon Island Resorts and Spa Contact Details:
reservations@lakawon.com.ph | +63-9175556979/ +63-9175022625 (Inquiries)
I'm looking forward to visiting again, may be this time for an overnight stay in Lakawon Beach when all of the on-going constructions are completed and the facilities are already fully operational.