The life of a parent isn't the most relaxing. You probably work all day or take care of the chores at home, taking the kids to their hobbies, keeping everyone in check and alive, while also trying to ensure the house remains presentable – yes, family life isn't typically perfect and that's alright. However, after all the hustle and bustle is over, wouldn't you just want to close the door for a minute and relax in a tranquil and inviting bedroom?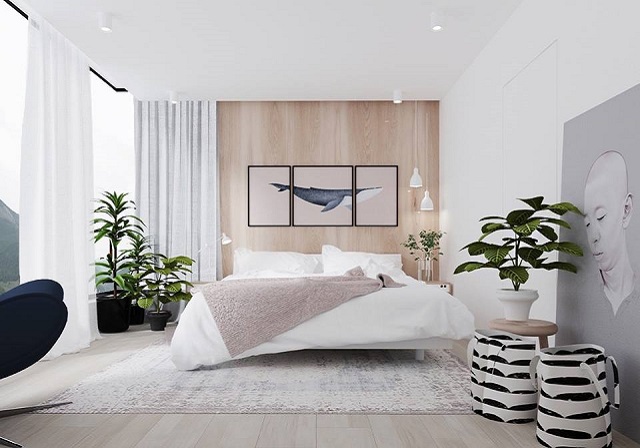 With the following tips, you can do just that. These are easy tips to create a tranquil room that's inviting and welcoming for parents – your own private island for relaxation.
Pick the most relaxing colours
The easiest way to make a room more relaxing is by paying attention to its colour scheme. Look at the picture – doesn't it just look so inviting? It's partly because the main colour scheme in the room is green. Green is a relaxing and calming colour; it makes everything seem just a little more soothing – it's no wonder hospitals often use different hues of green in their décor.
Now, if you can't start painting the walls, you could consider adding a little patch of wallpaper in a green floral print on one of the walls. If this is out of the question, just trust the power of accessories. Green curtains, bedding, rugs and blankets will be sufficient to create a tranquil look.
Don't add too many pillows or decorative items
You want your room to be relaxing and easy to keep organised. For this reason, you don't want to add too many decorative pillows or other small accessories. Sure, these look beautiful when they are all beautifully organised, but you don't have time to spend 20-minutes each morning organising your pillows.
Too much decorative elements will also make the room look restless and cluttered. So go through your items and throw away anything that doesn't give you real joy or have an important function in the bedroom.
Add plenty of warmth with fire elements
The picture is also inviting because of the fireplace. Fire is a surprisingly relaxing and comforting element. If you don't have an actual fireplace in the room, you could venture on a little DIY project.
You can also use plenty of candles in the room for added warmth. A few giant glass vases with big candles in a calming scent like chamomile will create a beautiful ambience in the room. You could find plenty of stunning vases and scented candles from Laura Ashley – you could even utilise a Laura Ashley discount code to keep your budget in check. Remember that if you don't want to use real candles, you can always opt for LED candles – these are a safer option for those with small children.
Remove distracting electronics
When you are tired after a long day with the kids and the work, you might find it easiest to just settle down in the bed and stream TV shows on your tablet. But using electronic devices right before you want to sleep is a bad idea. You won't sleep as soundly and you forget to really relax.
Remove these distractions from your bedroom to create a tranquil space. Watch your TV shows in the living room and use your social media elsewhere before you start your evening ritual. In fact, make sure your side table has enough books to entertain you and engage your mind and soul. Besides, as busy parents, you might want to use the bedroom for spending time together rather than just staring screens separately.
Remember to also keep any work-related items away from the bedroom! You do not want to make eye contact with anything stressful – including work files.
Include a few relaxing plants
Nature has an amazing power to make us feel more relaxed. For this reason, your bedroom should have a few plants and flowers. There are even plants that make it easier for you to sleep!
You don't need to go overboard with the plants – you're not creating a jungle. But a simple bouquet of flowers on the side table and a bigger all-year-around plant in the corner of the room is sufficient. If you're bad at keeping your plants and flowers alive, you could just pick fake products. They look surprisingly real these days and will still add that calmness to your space.
It's important to ensure your bedroom is inviting and tranquil. As a parent, you need to remember to take time to relax and pamper yourself. Therefore, you want to make sure your bedroom helps you escape the hustle and bustle of the rest of the house.
With the above tips, you can create a tranquil bedroom that'll help you sleep better, have more fun and take time for yourself and your partner.