ASUS Philippines unveiled the long-awaited Zenfone 4 series into the local market with their newly-announced ASUS Philippines Zenfone 4 local ambassador, Bea Alonzo. The ASUS Zenfone 4 series includes the powerful flagship smartphones – the Zenfone 4 and the Zenfone 4 Pro; the Zenfone 4 Selfie Series – Zenfone 4 Selfie and the Zenfone 4 Selfie Pro; Zenfone 4 Max.
The phones, with the dual-camera system, are  equipped with the most advanced technologies for a better mobile photography experience.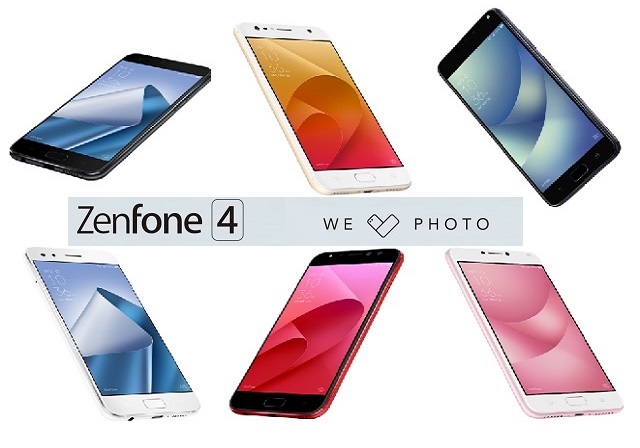 From top left: ZenFone 4 | Zenfone 4 Selfie| Zenfone 4 Max (black)
ZenFone 4 Pro | Zenfone 4 Selfie Pro | Zenfone 4 Max (pink)
ASUS Zenfone 4 Features:
The ZenFone 4 features a top-of-the-line dual-camera system that expands creative options to new heights.
12MP main camera is equipped with the industry-leading Sony IMX362 image sensor with large 1.4μm pixels and a wide, F1.8 aperture lens to capture up to 5x brighter and clearer photos in low light.
120° wide-angle camera provides a 200% larger view than standard normal smartphone, letting you fit more scenery and people.
Camera performance is further improved by the Qualcomm Spectra™ 160 image signal processor (ISP), which assures faster and smoother focusing and zooming, as well as photos with better color accuracy.
ASUS Zenfone 4 Pro Feautures:
The Zenfone 4 Pro* was engineered to provide luxury in every detail of your shot.
Standard camera with the Sony flagship IMX362 image sensor, an F1.7 aperture lens and a 10x total zoom capability.
Front-facing selfie camera with fast phase-detection auto-focus, this special variant captures gorgeous photos that is at par with professional cameras. 
Incorporates three high-end Sony image sensors and the ASUS SuperPixel™ Engine, which promises 8x brighter photos in low light.
Powered by the latest Qualcomm® Snapdragon™ 835 Mobile Platform and 6GB RAM to deliver a smooth and responsive camera experience, and the best performance with today's apps and games.
The Zenfone 4 Pro retails at Php 39,995.00 while the Zenfone 4 retails at Php 28,995.00 and will come with a JBL Clip 2 portable Bluetooth speaker, a premium Clear Case and ZenPower Slim. Both variants of the Zenfone 4 Series will come in two colors: Midnight Black and Moonlight White.
ASUS Zenfone 4 Selfie Features:
Front camera of 20MP base camera and a 120° super wide-angle camera to capture selfies and wefies, 200% more than the usual view.
Comes with the newest ASUS SelfieMaster, a smart beautification technology that helps one take better photos and livestreams.
Sporting a Snapdragon 430 with 4GB RAM and with a F/2.0 front camera with 5P lens, softlight led flash, and 16MP rear camera with 5P lens.
Comes with a tri-slot tray for two sim cards and a micro SD card. 
ASUS Zenfone 4 Selfie Pro Features:
24MP base camera and 120° super wide-angle camera.
Capability to take photos with up to 2x light sensitivity, which makes it perfect for taking low-light selfies
Showcases a curvy premium metal design and a  5.5" full HD AMOLED display, meant for more vivid displays on screen.
F/1.8 SONY IMX 362 front camera with its 24MP Duopixel Camera Technology, powered by a 14nm Snapdragon 625 processor with 4GB RAM assures you a great quality photo finish selfies and wefies without hassle.
The Zenfone 4 Selfie Pro, priced at Php 18,995.00, is available in three color variants: Rogue Red, Sunlight Gold and Deep Sea Black.  The Zenfone 4 Selfie retails at Php 13,995, and comes in three colors: Deep Sea Black, Sunlight Gold and Rose Pink.
ASUS Zenfone 4 Max Features:
5,000mAh battery life that can last for 46 days on stand-by. Adding more power to this smartphone is its 2x faster reverse charging capability, making it the "go-everywhere" power bank everyone's been wanting to have.
13MP base and a secondary 120° super wide-angle camera, meant to capture the bigger and wider picture without compromising quality. 
The Zenfone 4 Max retails at Php 9,995.00 only, and comes in 3 color variants: Deep Sea Black, Sunlight Gold and Rose Pink.
For more information on the Zenfone 4 series check ASUS Philippines' Official Facebook Page and ASUS ZenTalk Forum.