Here's comes another good news for breastfeeding pinay mommies. A breastfeeding book authored by a Filipina breastfeeding is out. This is an additional book you may draw inspiration from if you are still breastfeeding and would be a good read for those who will be starting on this rewarding milestone.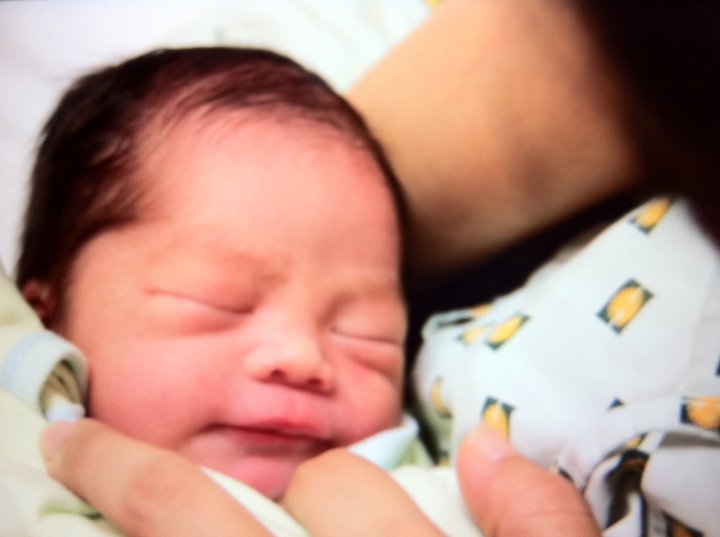 Happy breastfed baby, few hours after birth
Though I'm no longer breastfeeding (as my son decided to wean at 22 months. Sob! I know, I was the one who was not ready yet!), I want to get hold of the book for my collection.
The book talks about breastfeeding basics and success stories of mommies coming from all walks of life.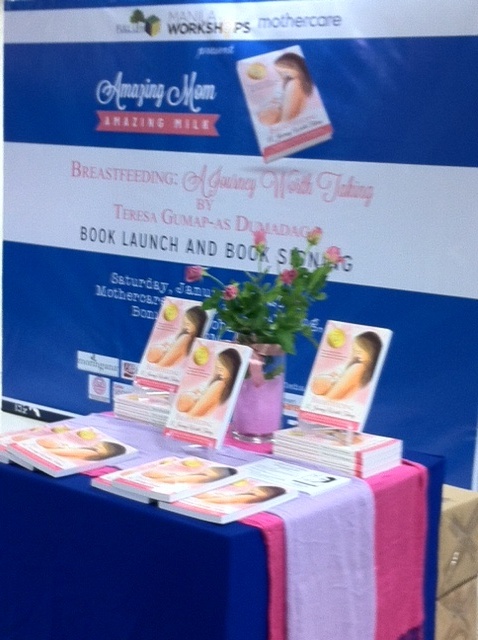 The first part of the book reminds us, mommies, and daddies too, of our true nature and that we are amazingly made. It also talks about the wonders of breastfeeding – from the benefits it can give to the child and what the mommies get in return.
The second part shows the different illustrations on the position that a nursing mom can choose from. It also explains on how to check for a proper latch. As postion and latching are two very crucial items to breastfeeding success, I would have loved to see there how a properly latched baby would look like. This would greatly help first time mommies for them to check how their own babies latch on to them.
In the same section, it also recommends some items to help in the breastfeeding journey and some tips on how to overcome the breastfeeding challenges.
The last part of the book includes stories of triumph over the challenges. Whether you are stay-at-home mom, work-at-home mom, a mom working outside the home, or a mompreneur, for sure you can easily find someone you can relate to.
I love the last pages of the book on the list of businesses that support breastfeeding. It's a good list to start with and checking online, or facebook can definitely add more to the list. I'm also happy to see the websites I Often check in the list of references.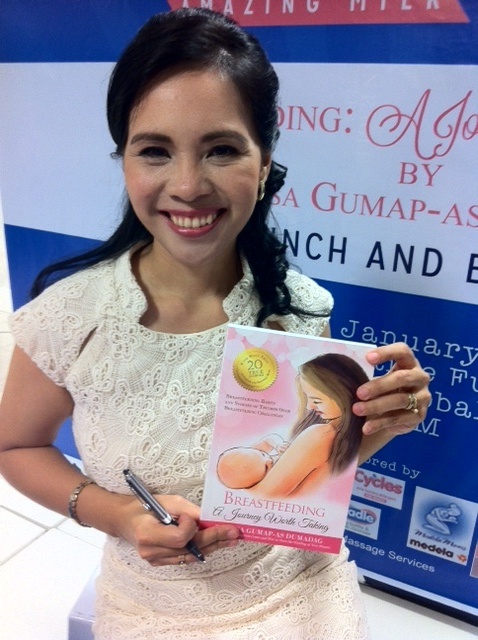 Author Teresa Gumap-as Dumadag is a homeschooling mom too!
Breastfeeding: A Journey Worth Taking by  Teresa Gumap-as Dumadag is formatted to make reading easier for busy moms. This book is very useful for firs time breastfeeding moms and for those who are encountering some challenges. With the author's and the shared stores, this book will inspire and empower moms to breastfeed, no matter how challenging and that breastfeeding is definitely a journey worth taking.
And so this one lucky mom went home happy with my signed book and big bag from Mothercare! More details on what's inside the bag coming up soon 🙂
Breastfeeding: A Journey Worth Taking can be purchased online through the book's 
BreastfeedingJourneyWorthTaking Facebook Page
, by emailing the author at teresa@fulllifecube.com or contact 09178345846 for only P499 per copy.  The author also wrote the
When My Bridegroom Comes
and
Have the Wedding of Your Dreams
.
You can watch the book trailer made by IraX Videography here: