My husband Jinoe and I love to travel. Even when we had our son Gab, our travel adventures continue, though this time around, we plan on going to kid-friendly or family-friendly places. We want him to experience how fun and memorable it is to travel, visit places, learn their culture and meet new people.
Traveling with a child is way different when traveling with no kid in tow. You definitely need to learn how to pack light so as to avoid carrying too much baggage and easier to move around.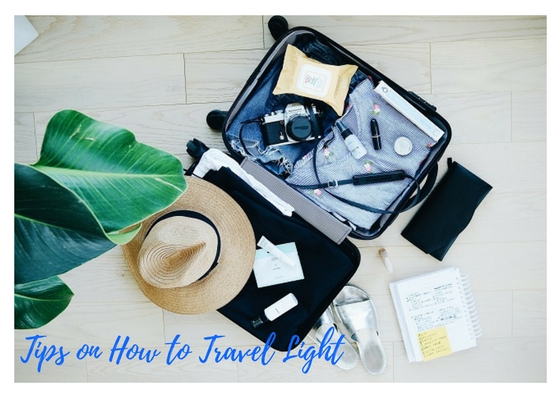 Here are some tips on how travel light:
Before packing, make a list of what you need. Also check your destination and accommodation as most, if not all provide toiletries, towels and a washer/dryer where you can clean used clothes.
1. Clothes
Plan your clothes on a per day basis, considering the activities you plan to do.  Bring clothing that go well together so you can mix and match. Choose light, flowing, quick-dry clothes that handle wrinkles well.
When going somewhere cold, pack a thermal wear and do layering instead of packing a heavy winter coat. If you need to buy winter wear, check for the lighter and packable version instead of the traditional bulky ones. Hand carry or wear your coat instead of packing them in the suite case.
For kids, make sure to pack extra set of clothes for spills and the like. We usually pack 2 extra set for a 5-day trip and this goes to our carry on luggage.
We use packing cubes or mesh bags for underwear and socks. Learning how to roll your clothes instead of folding them can save space.
2. Shoes
Wear or pack a comfortable one that pair well with all of your clothes and one you can wear on multiple occasions. If you need to bring more than a pair of shoes, wear the bulkier one (like boots) and pack the smaller one.
For our case, we usually wear our running shoes and pack extra flip-flops or smaller shoes.
3. Towels
This is a must for us to bring. While the hotels we are staying provide towels, we always bring our own for hygienic purposes. We pack microfiber towels so as not to occupy much space in our luggage.
4. Toiletries
We have a toiletry bag that contains toothbrush, a small tube of toothpaste (especially kid's toothpaste), shampoo, and conditioner sachets. We have travel-size containers for body/ facial wash and lotion and anything that we cannot find in a sachet packaging.
This is another thing you can go away with as most hotels provide them. Convenient stores also carry them in case you decide not to bring or if you need more.
5. Medicines
For medicines, we usually bring paracetamol and loperamide. We also pack mosquito repellent, a small soothing balm and a saline spray.
Medicines are one of the must-pack items when traveling outside of the country so you have them on hand in case you need them.
We always see to it to visit our pedia as she sometimes prescribed additional medicines to bring.
6. Gadget/ Electronics
If we are traveling for fun and vacation, we just bring our smartphones, and a camera. We also bring a gopro and a grip (for our our runs). We also bring a travel adapter (as needed) and plug extender with USB charge ports and just bring cords,  without the bulky plugs, for our gadget.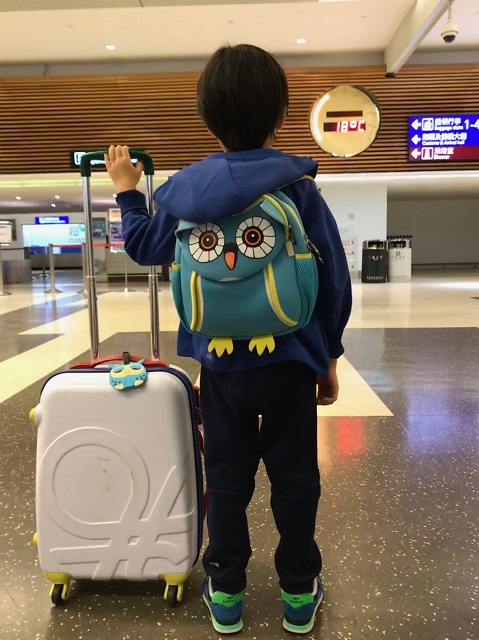 Carry on bag that contains his things – clothes, a pair of extra shoes. All good for 7 days of travel.
7. Something Extra
Here are some extra things we pack:
– travel pouch when traveling outside of the country so we do not have to bring our wallets with PH currency. This pouch will keep our train tickets, credit card and some identification.
– swim clothes because we want to be ready for beach/pool time (these are small items we can easy pack with our underwear mesh bag)
– day bag so we have an extra bag when traveling and exploring the city
– dry bag and ziplocks because we want to pack away some wet or small items neatly in our luggage  when vacation is over
It is also important to choose the right size of luggage bag (and its weight too!) so you do not  over pack. A carry on luggage bag can fit things for our family of 3 for weekend trip (then each of us has a small personal bag).
When arranging your things, put heavier items at the bottom of your suitcase (where the wheels are). It's easier to roll a bag through long long walks in the airport when the weight is down the bag. Rolling luggage is great if you are traveling and walking longer distances from airport gates to taxi/train stations and easier especially if you have a kid in tow.
Related posts: