Jinoe got an invite to check out a newly opened property in Quezon City. It is under Ortigas & Company, in partnership with hotel management specialist, Hospitality Innovators Inc. (HII). So we packed our bags for a family staycation!
It's been a while that I have been back in the Eastwood area. Last time was I think 4 years ago when I was still in a corporate job. Now, buildings and major developments were in place. It was our first time to come to Circulo Verde.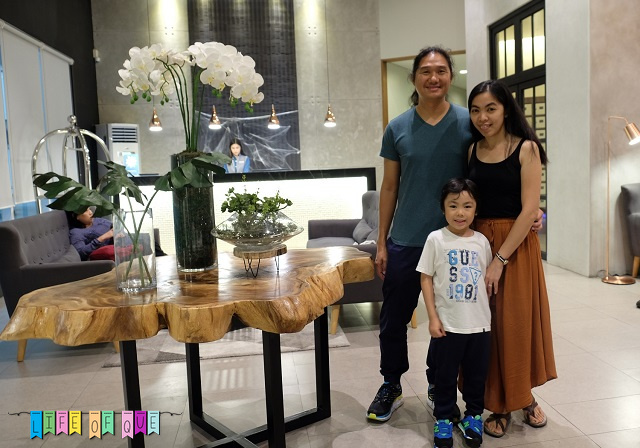 The main entrance for The Cirque Serviced Residences is in the Seville Tower. Checking in was a breeze. We just have to sign some forms and we're ready to settle in. Cirque have several room options – standard 1 bedroom flat, 1 bedroom loft and the 2 bedroom suites.
The rooms have the same amenities and just differ in the floor area. Each of the room has a living area with a flat tv, a dining space, a fully equipped kitchen, coffee and tea-making facility, washer/dryer, and the bedroom/s. The 2-bedroom has 2 baths, an extra utility room for laundry and has a provision for a working table.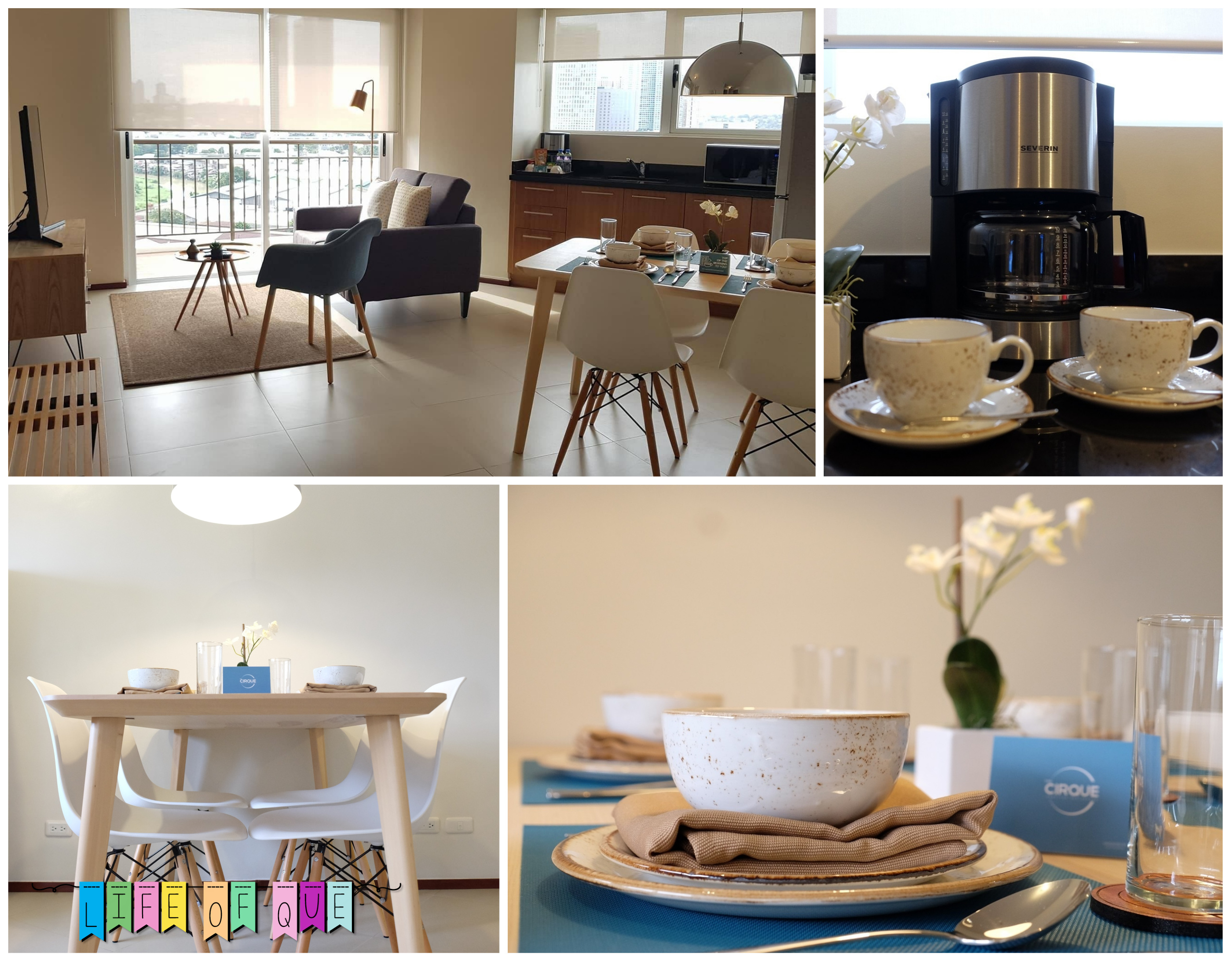 What makes Cirque different from other serviced residence is the interiors and concept with their vision to bring out a conscious environment that promotes the well being of their guests.  They are also pet-friendly, which means you can bring your pets for a staycation. Special materials were used like the Japanese breathing tiles, which absorb humidity and odor (from pets or when cooking) and the Daiken textile walls that absorb humidity and sound. This design avoid disruption to neighboring guests.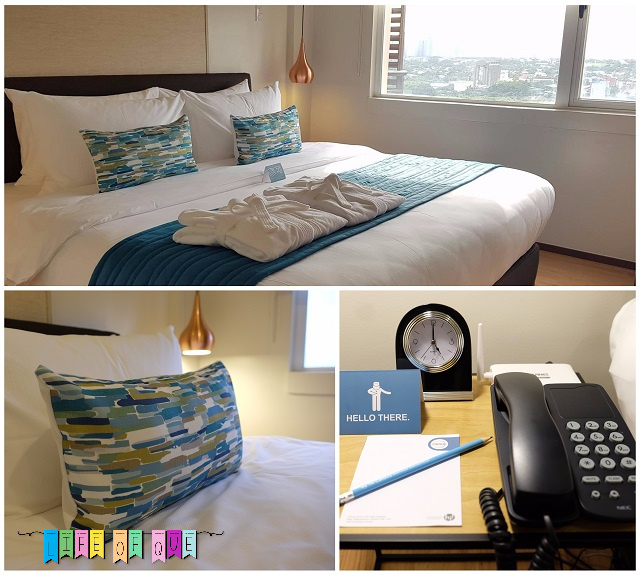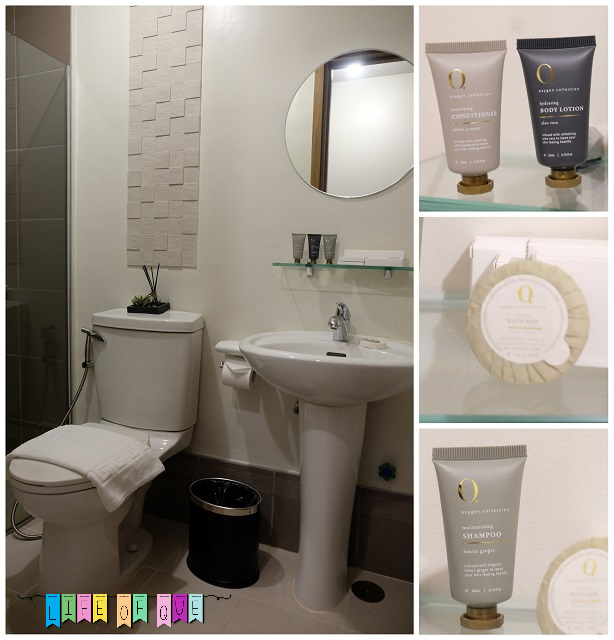 My favorite of course, was the loft! It has a spacious living area on the ground floor. The bedroom was on the upper part of the unit, and it has a lovely work space area. They have big and kiddie pools for those who want to take a dip (who doesn't?!) and a fitness center for a gym workout.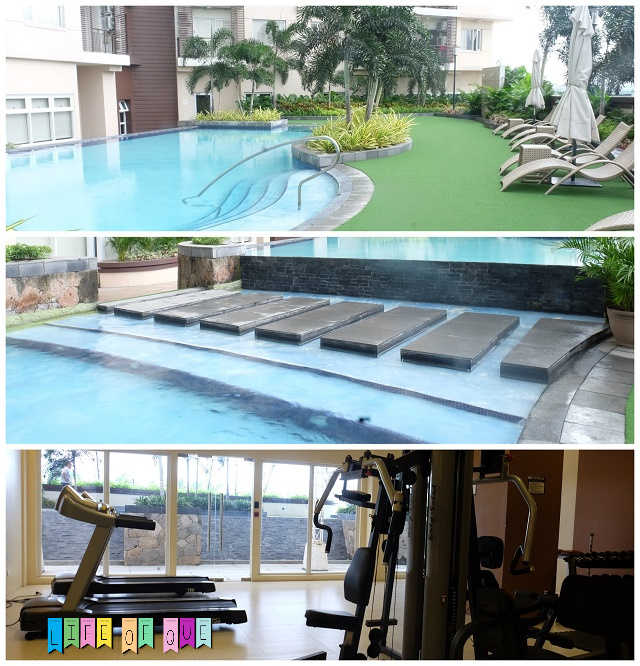 Within the 10-hectare property is a jogging path, a hachi park for pets, a bike playground and a mall.  See the 5 Things to Love at The Cirque Serviced Residences and the video here:
The mall still has vacant spaces for lease but it has some restaurants now open where you can dine in, a laundry shop and a bank. I hope a 24-hour convenient store would open soon for late night cravings or for last minute items you need to buy.
The Cirque Serviced Residences is located in Circulo Verde #70 Calle Industria, Bagumbayan in Quezon City. It's a good staycation place Room inclusions include a complimentary wifi, local calls, parking and breakfast/and or meal at Industria Mall (Chef and Brewer, Chill Top or Kambal Pandesal).
The Cirque is just a 5 minute-drive (or 15-minute walk) to Eastwood.