We had our family trip in the Visayas last October and we stayed at Jpark Island Resort and Waterpark Cebu in Mactan. Mactan Island is home to the many beautiful resorts without having to travel far away from Cebu City. It's a perfect location to have a relaxing beach trip when you are traveling with your kids in tow.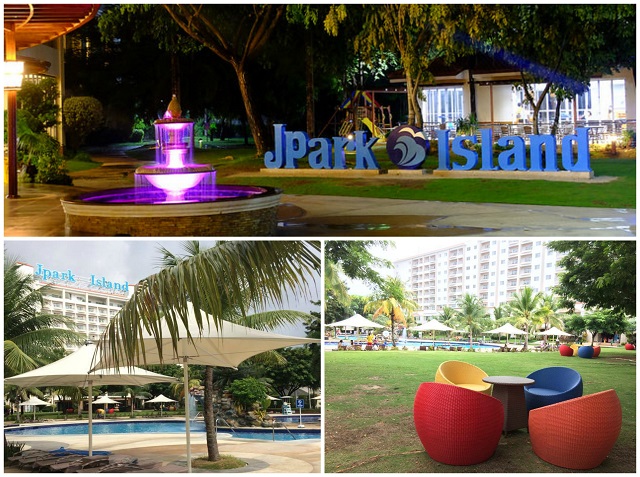 Our room in Jpark Island Resort
This 5-star hotel boasts having the most spacious accommodations in the region and equipped with modern conveniences. Most of the guest rooms are big and can accommodate a family of 4 or 5.
We booked a deluxe room for our stay. The deluxe room is the perfect size for the three of us. There's plenty of space and storage for our luggage and clothes.  Both the bed and the linen was excellent and we felt very comfortable.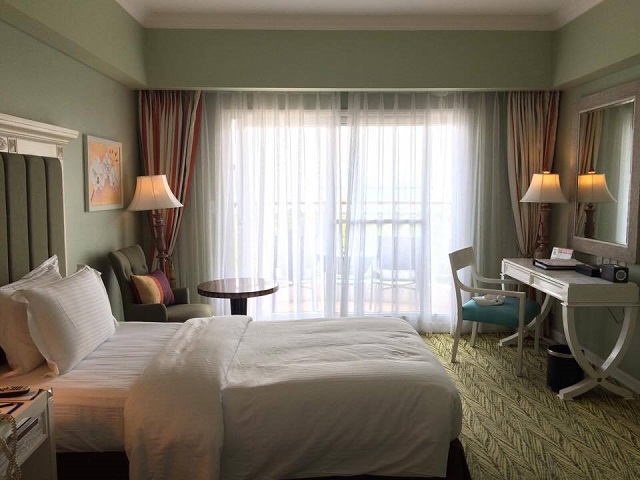 Part of the room showing the well-made bed. The other bed was jumped into upon arrival!
Outside of the room is a balcony overlooking the whole park and the ocean. There's a coffee table and chairs if you want to stay outdoors for some sun and breeze. The bathroom is spacious. It has a bathtub and a separate shower and toilet.
What to do in Jpark Island Resort
Jpark Island Resort's Waterpark features 5 swimming pools (Island pool, Wave pool, Toddler's pool, Captain Hook's pool, Beach pool), 3 water slides and a private beach all in one place.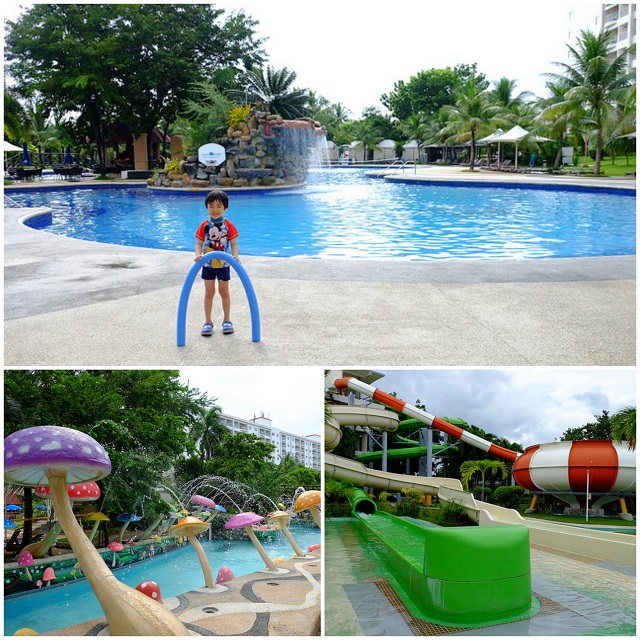 You can also go diving or snorkeling or even putting a round of mini-golf and even ride a go kart. The resort offers a wide array of fun activities for people of all ages. You will never run out of things to do where you are inside Jpark.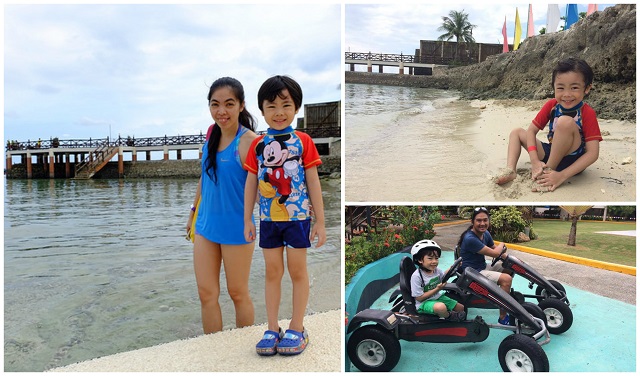 Jpark Resort has 8 restaurants serving different International/ Asian, Filipino, Chinese, and Korean cuisines for a delightful international dining. When dining at the Abalone restaurant, serving International cuisine, expect more Korean food. This is may be because, most often, the place is packed with visitors from Korea.
Other facilities include a fitness club, kids club, spa, karaoke, and bar.  A resort tram offers a free ride around the property. Wifi is available not just in the hotel but in the whole resort.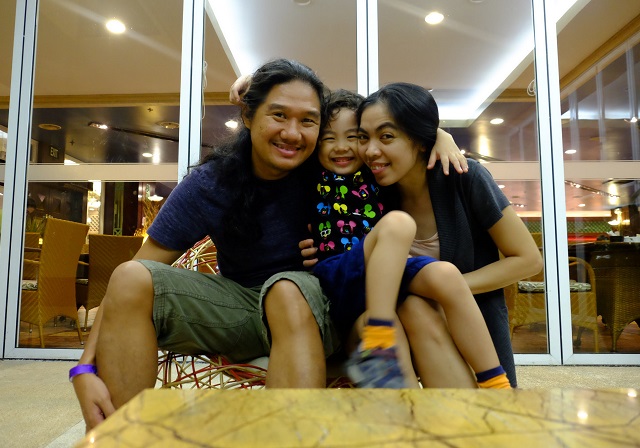 We loved Jpark! It's a grand resort getaway for the family to have fun and make memories. Would we go back? We would love to (and may be for a longer stay next time)!
Day tour rate of Php 3500 per person is available so visitors can use the park form 9am-9pm. Local residents are offered discounted rates of Php 2500 per person, Php 1500 for kids 12 and below. Children below 4 years old are free. The rate comes with a lunch buffet at The Abalone Restaurant, free use of the waterpark (pools and slides), and access to the private beach.
Our stay at Jpark is part of Gab's educational trip to kick off our history classes. You can read more about our travel schooling here: Cebu City Educational Tour for Kids and Places to Visit in Cebu.
Check this video to see more of JPark Island Resort and Waterpark Cebu and our Cebu trip.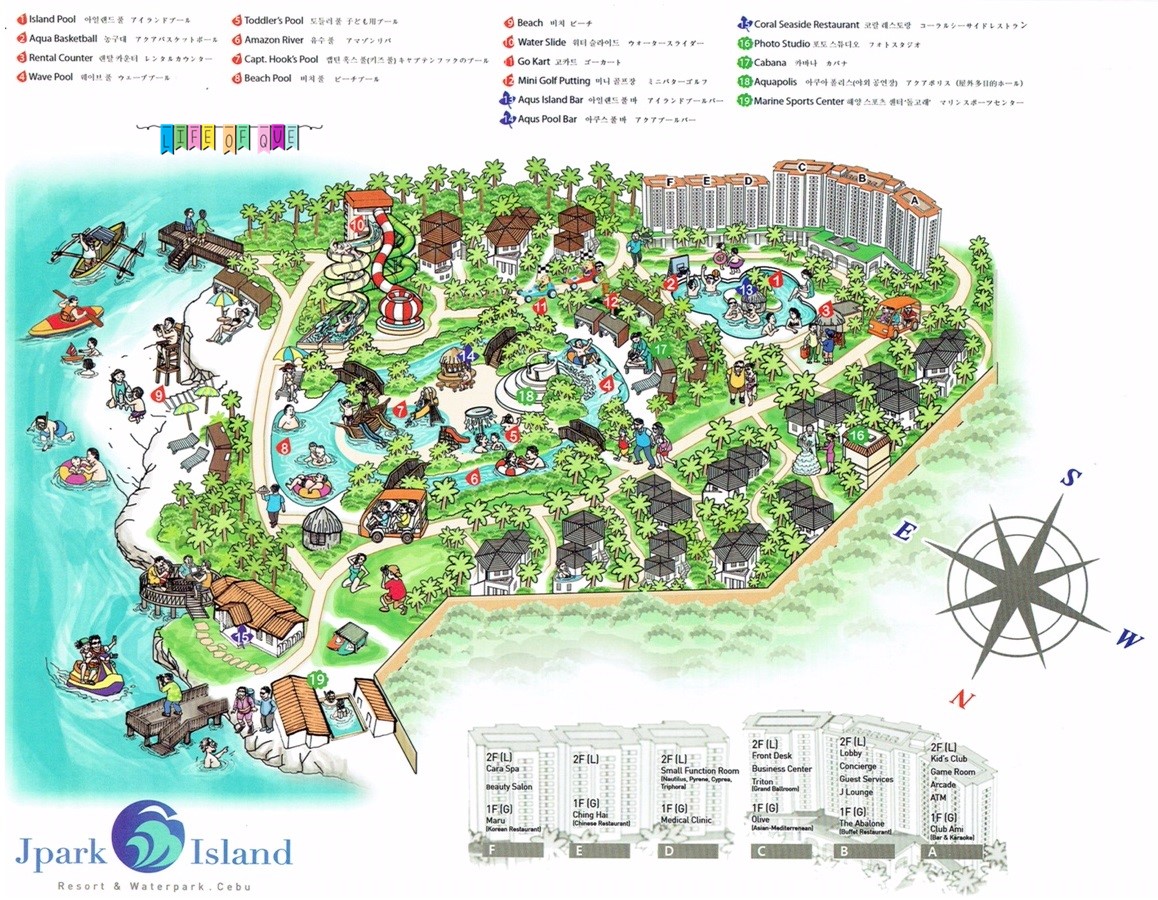 Jpark Island Resort & Waterpark, Cebu is located in  M.L. Quezon Highway, Brgy.Maribago, Lapu-Lapu City Mactan Island, Cebu. It used to be called Imperial Palace Waterpark Resort & Spa. From Cebu-Mactan International Airport, a taxi can take you there in less than 20 minutes.